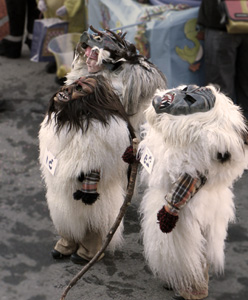 Preface
Krampus used to be busy with St. Nicholas during December. But soon after St. Nicholas began to wear shiny red and white costume, he was no longer needed.
He took long time to figure out why it happened, why he was abandoned. On the other hand, he could spend more time playing with old fellows in the mountains, and noticed what is most pleasant in his life.
December 2012
Hitoshi Kojo
Review
Beautiful limited edition CD in a hand-numbered run of only 123 numbered copies, packaged in crazy/hairy fake fur pockets complete with wraparound hand printed/silkscreened art stock masks:
Juppala Kaapio is the duo of amazing Japanese drone cosmonaut Hitoshi Kojo and his partner Carole who make celestial/endless folk/drone environments with a dizzy edge-of-the-abyss appeal that feels beamed from the top of the Swiss mountains.
Rewound Groves takes as its inspiration and cover design the Northern European folk/cult of the Krampus, a beast that was supposed to punish bad children for Santa on the run-up to Christmas.
The music matches the theme of ancient psychedelic ritual with a series of environs populated by strings that part like smoke, the kind of celestial shortwave confusion that could almost be Jacques Brodier, Coil-style Solstice drones and the sound of wordless vocals calling down the heavens.
Somewhere between the heavenly music of Taj Mahal Travellers, the occult Industrial actions of Organum and the haunted landscapes of Andrew Chalk/Ora et al, this is another dazzling side from Kojo and co and one of the great endlessly deep listens of the year.
December 2012
Volcanic Tongue
Yes, that is faux-fur sprouting from this cd by Juppala Kaapio! As we mentioned before, this duo has a Finnish name and shares a Finnish freak-folk ritualism, but neither participant is Finnish. They are in fact the husband / wife pairing of Carole and Hitoshi Kojo, who bring extended technique vocals, bleary instrumentation from smoke & mirror, and lots of liquid nirvana electronic processing to the source material.
Where their earlier works had 'jammed nature' along the Jewelled Antler / RV Paintings / Kemiallyset Ystavat axis with a wistful crunchiness, Rewound Groves marries the golden-summer glow of high-latitude pagan liturgy and the rapturous blur of Andrew Chalk's contributions to Organum or even some of the Taj Mahal Travellers broadcasts to nowhere.
The vocals from both Hitoshi and Carole wax and wane on the opening number "Sewing Through Twigs" amongst a richly patterned undulation of glistening drones from what might be bells, might be flutes, might be guitars, might be the sparkle of twilight stars. Watery textures and backmasked tape bridges these sounds with the :zoviet*france: like haze of "Mycophiles And Pebbles" with spectral loops and holy mesmerism sprawled throughout the soft-focus layering of sound.
Probably the best thing that Juppala Kaapio has released to date; and given the artwork this is justifiably limited to 123 copies. Brilliant.
Jim Haynes (Helen Scarsdale Agency, Aquarius Records)