Click to open slideshow
HITOSHI KOJO
Hitoshi Kojo is a Japanese sound-painter who currently lives in Belgium.

He has been working with multiple media - music composition, installation, performance, painting, sculpture, video, photo and those mixtures.
The extensive activities are based on his animistic sensitivity that all the matters and the spaces have their own memories.
Touching the objects, Talking to animals and plants, Resonating with atmosphere in the space. Such daily activities since the childhood are the basis of his works.

Since the move to Europe in 2004, the sound works such as making compositions, concerts, recordings have been placing more weight than other activities.
His sound works are typically formed by dense layers of textures and tones, that are carefully arranged in the space.
The sound of nature, noise, voice, instruments, etc. all the sounds are equally treated, and become elements to forming a molecular harmony in the sonic space that presents micro and macro-scape at the same time.
His music physically osmoses into the body of listeners and makes continuous fluctuations to their physical barrier. In that sense, the listeners can become a part of the sonic universe while listening to it.
Therefore he does not consider his recording only as a piece of composition nor as a document of a work, but also as a prepared material that can unfold a sound installation in any location.

His sound compositions have been released by experimental music labels such as Drone Records (Germany), Mystery Sea (Belgium), Kaon, Taâlem (France), Helen Scarsdale Agency, Alluvial Recordings, Olde English Spelling Bee, Peasant Magik (USA), etc, as well as his own label Octpia (until 2006) and omnimemento.
Several compositions were released by aliases, mostly as Spiracle until 2010.
He has been also creating experimental folkloric music with his wife Carole as Jüppala Kääpiö since 2006.



o News
+ About
o Archive
o Shop
o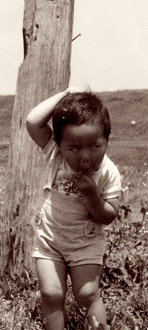 CHRONOLOGY
Here is my brief chronology of cultural influences, meetings, and other experiences that might have influenced my current works.
The feeling of my time line is not straight at all. It's spiraled, repeated, and discontinuous in the same time.
That's why the invention of a straight time line is sometimes helpful to know or to let you know where I am now. Although I no longer need to confirm it now.
1969
Born in Ibaragi, Japan
Some contents need latest version of flash player.


This site may NOT be compatible with Internet Explorer, please use other browsers.

The material on this site is licensed under a Creative Commons Attribution-NonCommercial-ShareAlike 3.0 Unported License.